Professional Development: Literacy
Coordinators: Max Greenwood and Lyn Wilkinson
Literacy 05
Blank
Baliok big books 2
Literacy 04
Dr Jenny Barnett and local experts
Entrance to the library at SPED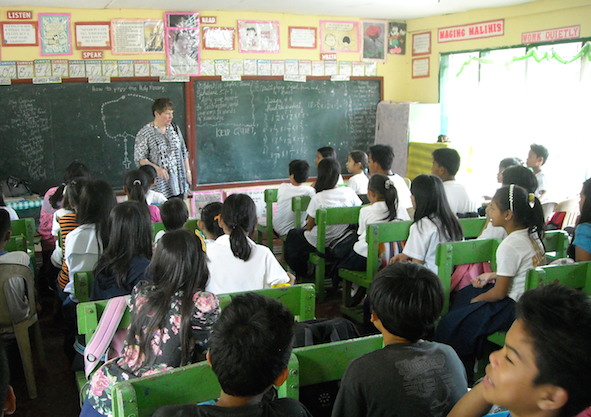 Lyn Wilkinson at Talomo Central
Blank
lges16
A program of activities was negotiated with the literacy coordinators in the 15 schools and also with teacher educators at the University of the South East Philippines. Workshops have been conducted with reading and English coordinators in the Talomo schools on three occasions. Activities attended to key learning priorities for students, including code breaking skills for reading in English and vocabulary development through reading and writing. Coordinators were introduced to some new teaching strategies, and two workshops have focused on the effective use of big books for teaching across a range of subject areas. Over time, each coordinator will share information and strategies from these workshops with other classroom teachers in their school.
With support from South Pacific School Aid (Adelaide), curriculum resources have been shipped to the schools. The schools in Talomo District were generally not well resourced, and one of AFFLIP's first actions was to ship pallets of books and teaching materials to them, including a copy of Picture Magic Teacher's Guide, written and donated by Judy Will, for every teacher. In 2014 ERA Publications made available a large number of big books (which would otherwise have been remaindered), individual readers, and phonics and Versatiles kits. These were sent in the fourth shipment, proving a great asset for teachers and students. Microscopes and sewing machines were included in this shipment and have been welcomed by Filipino staff. Literacy educators in Adelaide have written teacher notes to support the effective use of big books in the classrooms and these are available to all classroom teachers.
The focus is currently on school-based development of locally relevant literacy materials by teachers: this includes planning, writing, trialling and evaluating the materials as part of their regular curriculum. As a result of an agreement between Canon and the AFFLIP Board in Australia, these materials will be distributed at no cost to the schools.
Locally produced materials will be aimed at two separate areas of the curriculum: the Drop Everything and Read (DEAR) component where students read materials of their own choosing; and the teaching of subject area content. Adelaide educators are supporting local teachers by providing exemplars that can be adapted.
Bago versatiles 4
Literacy 03
This portfolio establishes professional development as an important aspect of the work of AFFLIP, and one that will respond to the needs that the practicing teachers identify.. For the next few years, the professional development focus will be literacy, primarily literacy in English, but it will make links with literacy in both Mother Tongue and Filipino in order to build a cohesive approach. In particular, the focus will be on classroom implementation of the principles underpinning the English curriculum within mother tongue based multilingual education.